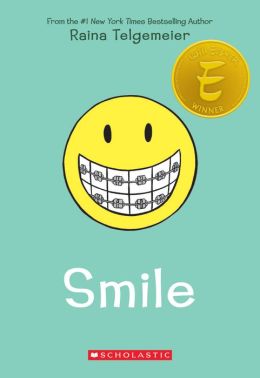 One evening in the seventh grade, shortly before getting braces, Raina has an accident. Her two front teeth are lost, and she's left with seemingly endless rounds of dentist visits and reconstruction. In the harsh world of adolescence, her teeth take center stage, effectively taking over her life.
Almost everyone I know had some reason to be insecure as a teen. Usually, our insecurity was blown way out of proportion to reality. This book taps into that insecurity with honest elegance. I found myself sympathizing with Raina's plight immediately, because our circumstances were so similar. But the theme is universal.
The graphic novel is the perfect medium for the message. It's fun to read; and the exaggerated expressions display precisely how an awkward adolescence feels. In the end, what matters isn't how others see us, but how we see ourselves. A good message, from a good book.
Bookwyrm Rating – Appetizer (If you want to see more, check out Raina Telgemeier's "Drama")